A microsimulation model for risk in Irish tillage farming
Cite

this article

as: J. Loughrey, F. Thorne, T. Hennessy; 2016; A microsimulation model for risk in Irish tillage farming; International Journal of Microsimulation; 9(2); 41-76.

doi: 10.34196/ijm.00135
Tillage farmers must manage numerous economic risks including uncertain yields and prices. Despite the presence of government payments, these factors can generate a relatively high variability in farm income. The improved management of farm income variability can contribute towards stability in household consumption, support for farm investments, further investment in child education and a reduction in the mental stress associated with variable incomes. In this paper, we develop a new farm-level stochastic microsimulation model to simulate the degree of risk attached to the production of Ireland's main tillage grain crop i.e. spring barley for animal feed usage. Forward contracting is the main available risk management tool for Irish tillage farmers. Our microsimulation model is extended in order to estimate the impact of forward contracting on farm income risk. Our results show that forward contracting can reduce farm income risk significantly but that other stable sources of income are probably necessary to contain the exposure to the income risk attached to cereal production. The model is capable of addressing the income risk associated with multiple crops although this version of the model is confined to one particular crop. The model can be further extended to accommodate other risk management tools such as crop insurance or a farm management deposit scheme. This will allow policymakers, farmers and other interested parties to assess the impact of alternative risk management policies on the heterogeneous pool of Irish tillage farmers.
Microsimulation models are increasingly being applied to research topics in agricultural economics (Shrestha et al. 2007; Hynes et al. 2009; Ramilan et al. 2011 and O'Donoghue 2013). Microsimulation models have much in common with traditional farm simulation models as both are frequently used to simulate policy and economic change although the biological component of farm level models makes them somewhat distinct (Richardson et al. 2014). In this paper, we introduce a stochastic farm-level microsimulation model with the objective of estimating the degree of income risk associated with tillage production on Irish farms. The model is extended further to examine the direct impact of forward selling a fixed proportion of cereal output on the variability of profit margins. This is the first attempt in the microsimulation literature to analyse the contribution of forward contracts or other financial risk management tools towards the containment of risk in agriculture.
Tillage farms in Ireland are an interesting case study as these farms face a number of serious challenges and risks which could potentially threaten their economic viability and survival into the future. These include a heavy dependence on direct payments (Hennessy et al. 2008), competition for access to land from the more profitable dairy sector (Läpple & Hennessy 2012) and risks associated with nutrient loss and the wider environment (Buckley & Carney 2013). Despite the presence of government payments, the risks associated with uncertain yields (production risk) and prices for individual crops (market risk) can be sufficient to generate unusually high income variability. Numerous studies have examined the role of these two variables in influencing income variability (e.g. Coble et al. 2002; Goodwin and Ker 2002).
The high exposure to production and market related income variability is particularly relevant for those farms with relatively low government payments and without stable off-farm income (Jetté-Nantel et al. 2011). There is a clear absence of empirical analysis regarding the economic impact of income risk and risk management tools for the main grain crops in Irish agriculture. Numerous studies have provided stochastic analysis of the risk associated with uncertain yields and prices in other areas of Irish agriculture e.g. Shalloo et al. (2004), Finneran et al. (2011) and Clancy et al. (2012) but none of these deal with the main grain crops. We develop a stochastic microsimulation model for the risk associated with uncertain prices and yields in the production of Spring Barley, the most commonly produced crop on Irish tillage farms (Holden et al. 2003; Kennedy and Connery 2005).
The development of the stochastic Microsimulation model largely follows the semi-parametric Monte Carlo simulation techniques outlined in Richardson et al. (2000) and Richardson et al. (2014) and adopted elsewhere by Archer and Reicosky (2009), Wilson and Dahl (2011) and Feng et al. (2014) among others. In our case, the microsimulation model is based on actual farms in the panel component of the Teagasc National Farm Survey. Kimura and Le Thi (2011, p6) explain that accounting for farm level characteristics is a critical part of risk analysis and point out that "using the cross-section data or aggregated time series data does not properly measure the producer's exposure to risks".
In recent years, the microsimulation literature has addressed risk-related topics such as poverty (Navicke et al. 2014) and financial market volatility (Lux and Marchesi 2000) but microsimulation techniques are less frequently applied to risk-related issues within agriculture. The capacity of microsimulation modelling to deal with farm heterogeneity can be of immense added value particularly in the area of risk where risk attitude and the exposure to risk can vary substantially across farms.
In the next section, we describe the recent evolution of risk management policies and tools relevant to Irish tillage farmers and indeed tillage farmers across the European Union. We follow this with a description of the data utilised to develop the model. In Section 4, we discuss the methodology used to develop the stochastic model. In Section 5, we discuss some results relating to the riskiness of profit margins in the production of spring barley and the potential impact of forward contracting on risk. This is followed finally by the conclusion.
2. Risk management: tools and government policies
Policies in relation to risk in Irish agriculture have largely been determined at an EU level since Ireland entered the European Community in 1973. On Ireland's entry into the community at the same time as Britain, the policy of intervention prices placed a floor on the degree of downside risk faced by farmers in both Ireland and Britain. For Irish farmers, the intervention prices determined a large share of total government payments until the MacSharry reforms and the introduction of direct payments in 1992/1993 (Hennessy et al. 2014). Sckokai and Moro (2009) explain that the MacSharry reforms were only partially decoupled from production given their connection with "decisions through the land allocation mechanism". This contrasts with the subsequent 2003 reforms and the introduction of the fully decoupled Single Farm Payment in 2005 in Ireland, although a number of Member States opted to retain some coupled payments.
The rapid decline in the intervention prices in the 1990s and early 2000s in conjunction with significantly reduced export subsidies introduced a much greater exposure to output price risk. At the same time, the introduction of direct payments helped to offset some of this risk although this varied across farms. Research has identified changes in risk attitude as a result of these policy reforms (Koundouri et al. 2009). Our microsimulation excludes this kind of behavioural component so that we do not address the potential effect that these policy changes may have had on risk attitude.
During the latest CAP reform package for 2014–2020, the real decline in the overall budget for direct payments is being accompanied by the emergence of an income stabilisation tool (IST) (European Commission, 2011) although the degree to which this tool has been implemented varies across Member States. In the EC proposal, the new tool should provide compensation to farmers who experience a severe drop in their income. Support can only be granted "where the drop of income exceeds 30% of the average annual income of the individual farmer in the preceding three-year period or a three-year average based on the preceding five year period excluding the highest and lowest entry. Furthermore, "payments by the mutual fund to farmers shall compensate for not more than 70% of the income lost" (European Commission 2011).
A few studies have sought to estimate the economic outcomes that this tool can produce. Mary et al. (2014) have estimated that farm income volatility in France declines by more than 35 per cent with the introduction of the IST but may generate output distortions. Finger and El Benni (2014a) find that the IST mechanism significantly reduces income inequality among Swiss farms. Finger and El Benni (2014b) conclude that the specification of the farm-level reference income should account for observed income trends as "the average-based approaches cause lower than expected indemnification levels for farmers with increasing incomes, and higher indemnifications if farm incomes are decreasing over time."
The empirical analysis in this paper does not focus on the potential economic impact of these non-established tools and instead concentrates on the direct impacts from an existing risk management tool namely the forward contracting tool. Seifert et al. (2004) define a forward contract simply as "an agreement to buy a commodity at a certain future time for a certain price". Microsimulation models have rarely incorporated the contribution of financial risk management tools such as forward contracts and futures towards the management of income variability in commodity or other financial markets.
In our farm-based example, the commodity in question is spring barley for animal feed usage. We seek to identify the direct impact on the riskiness of farm profit of entering into a forward contract at different prices and under a range of alternative yield and price scenarios. Tillage farmers in Ireland have access to a very limited number of risk management tools to manage risk with forward contracting being the main available market risk management tool. Hennessy et al. (2014) have estimated that approximately 30 per cent of Irish tillage farms availed of the forward contracting tool during 2012.
The limited availability of risk management tools in Ireland contrasts with the situation in the United States where Pennings et al. (2008) report that a majority of U.S. crop producers employ more than one risk management tool. Forward contracts, basis contracts, futures contracts, catastrophic coverage and crop revenue coverage appear to be the most commonly adopted tools. In Australia, the Farm Management deposit (FMD) scheme has been widely adopted as a form of risk management tool with the total number of accounts reaching almost 46,000 in June 2014 and total deposits peaking at over $4bn (Australian Government, 2014).
This scheme allows 'eligible primary producers' to deposit pre-tax income in years of high income, which can be accessed subsequently in years of low income. The income in the FMD account is tax deductible in the financial year the deposit is made and becomes taxable in the financial year of the withdrawl. From July 2016, the cap on deposits rises from AUD ($) 400,000 to AUD ($) 800,000 (Australian Government, 2016).
The widespread use of risk management tools in the United States has generated a significant literature examining the economic impact of tool adoption at the farm level. Cornaggia (2013) finds that risk management leads to greater productivity by relaxing financial constraints suggesting that producers that hedge are more likely to receive access to finance, which can then be used 'to finance productivity-enhancing investments'. Glauber (2013) concludes that crop revenue insurance coverage based on expected prices compares favourably to fixed-price supports such as countercyclical payments and marketing assistance loans. Goodwin and Smith (2013) argue however, that the burdens associated with the collection of tax revenues to fund the subsidized crop insurance program can generate a large number of distortions both within agriculture and the aggregate economy.
It is envisaged that the future development of this farm-level microsimulation model will allow us to make some worthwhile judgements on the potential effectiveness of the above policies on risk and profitability in Irish tillage farming and the potential effectiveness of alternative risk management tools which may include forward contracting. The wider effects on the non-agricultural economy are however, probably beyond the scope of the model.
In this section, we describe the data source used to construct the farm-level model. This data includes the Teagasc National Farm Survey, the CSO Data on crop yields, FAO data on international crop yields and a crop price database collected and maintained by the Agricultural Economics and Farm Survey department of Teagasc Rural Economy. The objectives of the National Farm Survey (NFS) are to
Determine the financial situation on Irish farms by measuring the level of gross output, costs, income, investment and indebtedness across the spectrum of farming systems and sizes,

Provide data on Irish farm incomes to the EU Commission in Brussels (FADN),

Measure the current levels of, and variation in, farm performance for use as standards for farm management purposes, and

Provide a database for economic and rural development research and policy analysis.
To achieve these objectives, a farm accounts book is recorded for each year on a random sample of farms, selected by the CSO, throughout the country. For this analysis, the Teagasc NFS micro data spans the period from 2004 to 2013. The panel is unbalanced in the sense that there is some attrition from year to year as farmers leave the sample and are replaced by other farms. The attrition rate is relatively low however and new farmers are introduced during the period to maintain a representative sample that is usually kept to between 900 and 1100 farms.
For our purposes, we concentrate on specialist and non-specialist tillage farmers who produce spring barley for animal feed usage. We concentrate on this subset of farmers as spring barley is the most common grain crop produced by Irish farmers. We have excluded malted spring barley due to the price differential between malted barley and barley for animal feed usage. We have excluded some growers of spring barley (animal feed use) for a number of reasons. First, it is critical that each farm in the analysis has a sufficient number of historical yields for the generation of stochastic projections. As in the case of the Italian analysis by Kimura and Le Thi (2011), we include all crop producers that have remained in the sample for at least five years between 2004 and 2013.
There are a total of 138 farms meeting the above criteria and these farms are therefore considered to be 'the selected sample' and are available for the stochastic analysis. This includes some specialist tillage farms which are largely focused on cereal production and non-specialist cereal producers, who engage primarily in livestock and/or milk production and for whom cereal production is a secondary activity. There is some attrition in our data in that only 37 farms have historical data for Spring Barley in all of the ten relevant years. The 138 farms represent approximately 8,700 Spring Barley growers. Our sample is therefore representative of the vast majority of spring barley growers in the country. The Census of Agriculture 2010 showed that there were 9,058 spring barley growers (inc. malted barley) in Ireland during that year (CSO, 2012). Our sample includes farms that rotate crops from time to time. This explains the relatively high number of growers being represented.
In Table 1, we display some summary statistics to compare our selected sample of tillage farmers with all other tillage farms in the Teagasc National Farm Survey. This will allow us to examine the representativeness of the selected sample. The statistics are weighted according to the weights provided in the Teagasc National Farm Survey micro-data. The comparison distinguishes between those with no record of producing spring barley for animal feed, those farms with a record of less than five years in producing this crop and those farms comprising the selected sample i.e. those farms with at least five years of production in spring barley for animal feed usage. Some farmers concentrate their activities on other grain crops and are therefore excluded from this initial version of the model. It is intended that the model will eventually broaden to incorporate other grain crops when the sample size becomes sufficient.
Table 1 shows that the selected sample tends to achieve a higher yield per hectare than those farms with less than five observations perhaps reflecting the better performance and growing conditions for farms in the selected sample. It may be the case that some farmers respond to poor yield outcomes by ceasing the production of spring barley and we should consider this in any assessment of the model results. For the selected sample, the average number of hectares of spring barley production appears quite low at approximately 10.45 hectares. This is due to the fact that some of these farms will have recorded years without production of spring barley for animal feed. A substantial proportion of activity on many of these farms is allocated to livestock production. For instance, among the selected sample, an average of approximately 38.5 hectares is devoted to livestock production. This exceeds the average number of hectares allocated to tillage production. A relatively small proportion (~ six per cent) of the selected sample is engaged in specialist dairy farming. This contrasts with 20 per cent for those crop-producers with no spring barley for animal feed usage.
In terms of farm income, it appears that the selected sample has higher farm income than those farms with fewer observations of spring barley. This is mainly driven by differences in the size of the single farm payment as opposed to market-based activities. The average size of the single farm payment is quite substantial and capable of providing a role as a risk management tool and perhaps crowd out the demand for the forward contracting tool and other financial risk management tools. The average age of the farm operator is also higher among the selected sample which may have some effect on risk management decision-making. The differences in sample characteristics mean that we should be careful in interpreting the results. The eventual results will apply to those farms with a relatively high number of years with spring barley production and may not be so relevant for those farms with an occasional production of this crop.
As in the case of dairy farmers, the volatility in output and input prices has increased in the past decade. This is part of a wider global trend which has received much attention in the academic literature (see for example Abbott et al. 2011). In Figure 1, we present the recent output price trends for the main grain crops including Barley for animal feed usage. Historically, there have been significant differences in price between Malted Barley and Barley for animal feed use with Malted Barley commanding the higher output price. Despite this price differential, the Barley for animal feed use is more commonly grown in Ireland. The size of the livestock sector in Ireland demands a large supply of grain crops for animal feed use.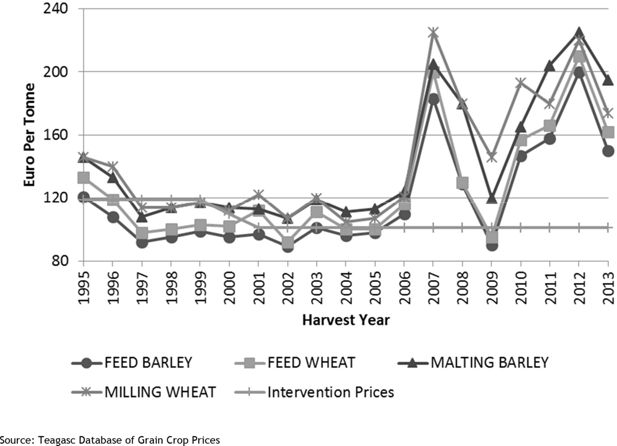 One can see from Figure 1 that the price for Feed Barley has lagged behind Malted Barley for the entire period. The price for Feed Barley has closely followed that for Feed Wheat especially since the year 2000. Perhaps, the most striking aspect of this graph is the apparent increase in the volatility of these output prices since 2006. Both Feed Barley and Feed Wheat prices hit the intervention price in the demand slump of 2009 having reached record nominal prices in 2007. It does appear however, that the intervention price is becoming less significant over time. During the 1990s and early 2000s, the market price for Barley was frequently below the intervention price. Grant (2010) explains that this greatly reduced the risks faced by producers and "led to the appearance of the famous butter mountains, wine lakes etc." Policy has responded by phasing out the option of intervention, reducing the intervention price to near world market levels or alternatively abolishing the option of intervention for particular commodities.
The profitability of Barley production is dependent on both the output price and the relevant input prices. In terms of input prices, the price of Fertilizer, Machinery Hire, Crop Protection and Seeds are particularly important. In Figure 2, we display the cost price indices for these four inputs. We use the index for motor fuel as a substitute for machinery hire.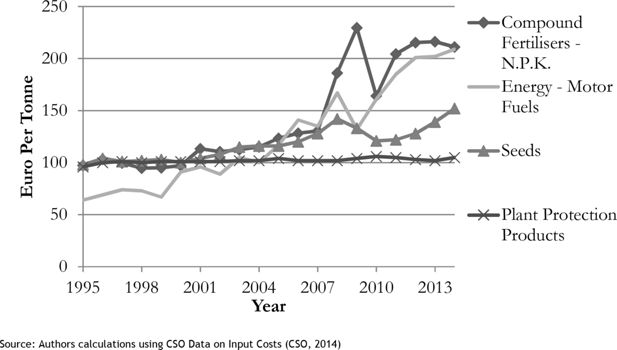 The model includes information on international crop yields and domestic crop prices given that international crop yields can influence domestic crop prices. A correlation matrix of these variables is generated which we discuss in more detail in the next section. The correlations between crop yields are made at the aggregate level using data taken from the CSO rather than farm level data from the Teagasc National Farm Survey. This is a necessary step given that the vast majority of the farms in the sample do not produce all of the relevant crops in the same year i.e. Barley, Wheat and Oats. We are therefore assuming that the correlations between the yields of Barley, Wheat and Oats, as calculated using the CSO aggregate statistics are appropriate for the variety of farms in our sample.
Our model provides an estimate of Market Gross Margin for the production of Spring Barley (animal feed use) for each farm under 500 alternative output price and yield scenarios, generated using the SIMETAR software package. We therefore account for the risk associated with these two random variables. The stochastic returns are based on market gross margin rather than market net margin. The market gross margin excludes the deduction of farm overheads such as depreciation, interest repayments and other expenditure items such as electricity, light and heat costs which cannot easily be attributed to a particular farming activity. The market net margin is the profit measure which includes the deduction of these overhead items. In this section, we describe the steps required to estimate the stochastic market gross margin beginning with a formal definition of the market gross margin. This is followed by an explanation of the steps required to deliver stochastic estimates for each of the components in the model.
The formula for the market gross margin function is the following:
p output price per unit of Spring Barley
q yield per hectare of Spring Barley crop
HA Land Size in Number of Hectares cultivated of Spring Barley. It is assumed that the total number of hectares is unchanged from the most recently available data year.2
DC Direct Costs including Hired Machinery, Seeds, Crop Protection, Fertiliser, Transport Costs, Labour and Other Direct Costs. The Direct Costs are crop specific.
In this section, we present the simulation results showing the degree of income variability attached to the production of spring barley for animal feed usage and the degree to which the forward contracting risk management tool can reduce this income variability and therefore contribute towards managing income risk. We begin this section with the stochastic projections for the output price as this is the main contributor to income risk. This is followed by the results with respect to the riskiness of crop yield and the results relating to the riskiness of the market gross margin.
In this paper, we have utilised historical farm-level data from the Teagasc National Farm Survey to develop a stochastic microsimulation model for the production of Spring Barley for animal feed use among Irish farmers. This has provided us with an indication of the income risk associated with the production of this grain crop. Forward Contracting is the main available financial risk management tool in Irish tillage farming and we have estimated the first round direct impact of this tool on the variability of profits. The paper is quite a unique contribution as it brings together microsimulation techniques and financial risk management tools to an agricultural setting.
Our results confirm that there is substantial income risk associated with tillage production in Ireland and that a sole focus on tillage production can leave farmers highly vulnerable to market and production risks. Domestic crop prices appear to be largely determined by international forces and domestic crop yields appear to have little influence on domestic crop prices. This means that instances of poor domestic crop yields and disappointing output prices can occur with greater frequency than in larger crop-producing regions or countries, thus leaving Irish farmers more exposed to income risk than their counterparts operating in larger markets.
The relatively high single farm payments therefore play an important role as a risk management tool although this comes with costs for taxpayers and wider society. The forward contracting risk management tool can provide an alternative source of risk management and our results suggest that this tool can reduce the standard deviation of returns by approximately twenty per cent although this is dependent on the share of production committed to the contract.
Although our models have some relatively strong assumptions, the work can support a better understanding about the economic risks associated with the production of grain crops in Ireland and the extent to which forward contracting can offer protection from adverse economic shocks. Farmers will need to establish their own stochastic budgets before considering the forward contracting tool. As in the case of other European farmers, the Irish tillage farmers could benefit from a wider range of available risk management tools. This may include tools capable of giving better protection from adverse changes to the gross margin than is available under a forward contract. Demand for these tools may well be influenced by the degree of dependency on the single farm payment. Future work will incorporate the role of the single farm payments and off-farm work in stabilising household income particularly for these less cost competitive tillage producers. The model can be developed further to examine the potential effect of other risk management tools on income risk including a farm management deposit scheme or gross margin insurance.
The improved management of farm income variability can contribute towards stability in household consumption, support for farm investments, further investment in child education and a reduction in the mental stress associated with variable incomes and therefore is an important issue for policy makers. The findings from this research can facilitate more effective policy design and implementation in this regard. Our results confirm the important role of decoupled direct payments in insulating farmers' incomes against risk. However, our findings also indicate that income variability has increased in recent years and hence the need for risk management tools. We find that forward contracting can be an effective means of reducing farmers' exposure to income variability. Whilst forward contracting is not a policy tool, there is a role for policy makers in relation to education and promotion and in the provision of timely, accessible market information, similar to the data provided in the Milk Market Observatory, co-ordinated by the European Commission. Furthermore, our research has examined the relative contribution of price and yield to margin volatility thus providing policy makers with useful information on the source of risk which can support the design of more effective policies, such as the income stabilisation tool for example. Whilst, this paper did not specifically examine the impact of the income stabilisation tool, the modelling infrastructure built as part of this paper could be used in future work to examine this research question.
Assumed that average of the first three months is the relevant price index.
We make this assumption for a number of reasons. For a model of national-level barley production, the number of hectares could be assumed to be a function of a moving average of recent output prices or gross margins. This method has major limitations at the farm-level given the individual farm-level land constraints and the competition between alternative crops and farm activities for land.
Set-aside was initially introduced in order to limit the production of cereals in the EU. It was applied on a voluntary basis from 1988/89. The policy reforms in 1992 made it obligatory as price support became conditional on arable farmers committing a fixed percentage of arable land to set aside. This policy was abolished in 2007/2008.
According to the microdata, it appears that from 2004-2013 that a minority of producers recorded the production of spring barley for both animal feed and malting spring barley in the same year. However, the vast majority of farms with a record of producing malting spring barley have recorded production for both barley types during the course of their participation in the Teagasc National farm Survey. The small sample size of malting barley growers in the Teagasc National Farm Survey means that we do not report precise estimates for this subgroup of farmers.
The average tillage farmer is assumed to have an expected farm income of approximately 33,229. This is based on the size of the lagged decoupled payments and the average coupled income in recent years.
We do not simulate shares of production greater than 35 per cent as there is a risk that the farmer will not be in a position at harvest time to deliver the required quantity on the contract.
One observation is deleted as the coefficient of variation exceeds five.
These farms are engaged in cereal production but are excluded from the Specialist tillage category and are primarily engaged in livestock and/or milk production
1

What Is Driving Food Prices in 2011?.

What Is Driving Food Prices in 2011?. , Oak Brook, Farm Foundation, Issue Reports, IL, USA.

2

3

Economic performance of alternative tillage systems in the northern corn belt

Agronomy Journal 101:296–304.

4

5

6

The potential to reduce the risk of diffuse pollution from agriculture while improving economic performance at farm level

Environmental Science and Policy 25:118–126.

7

On the role of risk versus economies of scope in farm diversification with an application to Ethiopian farms

Journal of Agricultural Economics 63:25–55.

8

A stochastic analysis of the decision to produce biomass crops in Ireland

Biomass and Bioenergy 46:353–365.

9

Understanding the economic factors influencing farm policy preferences

Review of Agricultural Economics 24:309–321.

10

Does risk management matter? Evidence from the U.S. agricultural industry

Journal of Financial Economics 109:419–440.

11

12

Proposal for a Regulation of the European Parliament and of the Council on Support for Rural Development by the European Agricultural Fund for Rural Development (EAFRD), European Commission, Brussels, C0M(2011), 627/3 (2011)

Proposal for a Regulation of the European Parliament and of the Council on Support for Rural Development by the European Agricultural Fund for Rural Development (EAFRD), European Commission, Brussels, C0M(2011), 627/3 (2011).

13

14

Stochastic Partial Equilibrium Modelling: An Application to Crop Yield Variability

In: C Zopounidis, N Kalogeras, K Mattas, G van Dijk, G Baourakis, editors. Agricultural Cooperative Management and Policy. Switzerland: Springer International Publishing. pp. 41–61.

15

A note on the effects of the Income Stabilisation Tool on income inequality in agriculture

Journal of Agricultural Economics 65:739–745.

16

Alternative Specifications of Reference Income Levels in the Income Stabilization Tool

In: C Zopounidis, N Kalogeras, K Mattas, G van Dijk, G Baourakis, editors. Agricultural Cooperative Management and Policy. Switzerland: Springer International Publishing. pp. 65–85.

17

Stochastic simulation of the cost of home-produced feeds for ruminant livestock systems

Journal of Agricultural Science 150:123–139.

18

The Growth Of The Federal Crop Insurance Program, 1990-2011

American Journal of Agricultural Economics 95:482–88.

19

Determinants of endogenous price risk in corn and wheat futures markets

Journal of Futures Markets 20:753–774.

20

Modeling price and yield risk

In: R Just, R Pope, editors. A comprehensive assessment of the role of risk in US agriculture. Norwell, Boston, MA: Kluwer Academic Publisher. pp. 289–324.

21

What Harm Is Done By Subsidizing Crop Insurance?

American Journal of Agricultural Economics 95:489–497.

22

Policy instruments in the common agricultural policy

West European Politics 33:22–38.

23

Budgetary and producer welfare effects of revenue insurance

American Journal of Agricultural Economics 79:1024–1034.

24

Quantifying the viability of farming in Ireland: can decoupling address the regional imbalances?

Irish Geography 41:29–47.

25

Forty years of the Common Agricultural Policy: The Irish farming experience

Administration 62:87–102.

26

The development of farm-level sustainability indicators for Ireland using the Teagasc National Farm Survey

Ireland: Teagasc.

27

Possible change in Irish climate and its impact on barley and potato yields

Agricultural and Forest Meteorology 116:181–196.

28

Harvest contract price volatility for cotton

Journal of Futures Markets 19:717–733.

29

Building a static farm level spatial microsimulation model for rural development and agricultural policy analysis in Ireland

International Journal of Agricultural Resources, Governance and Ecology 8:282–299.

30

Farm income variability and offfarm diversification among Canadian farm operators

Agricultural Finance Review 71:329–346.

31

Grain yield reductions in spring barley due to barley yellow dwarf virus and aphid feeding

Irish Journal of Agricultural and Food Research 44:111–128.

32

33

The profit impacts of risk management tool adoption

Agricultural Finance Review 72:104–116.

34

The capacity to expand milk production in Ireland following the removal of milk quotas

Irish Journal of Agricultural and Food Research 51:1–11.

35

An ex-ante assessment of CAP income stabilisation payments using a farm house hold model, in 87th annual conference of the agricultural economics society

UK, University of Warwick.

36

Responsiveness of Crop Yield and Acreage to Prices and Climate

American Journal of Agricultural Economics 97:1–21.

37

Nowcasting indicators of poverty risk in the European Union: a microsimulation approach

Social Indicators Research 119:101–119.

38

The simultaneous hedging of price risk, crop yield risk and currency risk

Canadian Journal of Agricultural Economics/Revue canadienne d'agroeconomie 48:123–140.

39

Modelling Farm Viability

In: C O'Donoghue, D Ballas, G Clarke, S Hynes, K Morrissey, editors. Spatial Microsimulation for Rural Policy Analysis. Springer Berlin Heidelberg. pp. 177–191.

40

The Single Farm Payment — A Basic Income for Farmers?

Basic Income Studies 7:1–23.

41

Producers' complex risk management choices

Agribusiness 24:31–54.

42

Analysis of environmental and economic efficiency using a farm population micro-simulation model

Mathematics and Computers in Simulation 81:1344–1352.

43

An applied procedure for estimating and simulating multivariate empirical (MVE) probability distributions in farm-level risk assessment and policy analysis

Journal of Agricultural and Applied Economics 32:299–316.

44

Simulation and Econometrics to Analyze Risk

Department of Agricultural Economics, Texas A and M University.

45

Farm Level Models'

In: Cathal O'Donoghue, editors. Handbook of Microsimulation Modelling, (Contributions to Economic Analysis 293). Emerald Group Publishing Limited. pp. 505–534.

46

Optimal procurement strategies for online spot markets

European Journal of Operational Research 152:781–799.

47

Description and validation of the Moorepark Dairy Systems Model

Journal of Dairy Science 87:1945–1958.

48

The Effect of Decoupling on Farming in Ireland: A Regional Analysis

Irish Journal of Agriculture and Food Research 46:1–13.

49

Management Data for Farm Planning 2013/2014

Teagasc: Oakpark.

50
Article and author information
Author details
The authors acknowledge the funding support of the Department of Agriculture, Food and the Marine under the project entitled 'Volatility and Risk in Irish Agriculture'. The authors acknowledge the training provided by the FAPRI (Food and Agricultural Policy Research Institute) Missouri team in delivering a short course in Partial Equilibrium Modeling at the FAPRI Institute in July 2014 in Columbia, Missouri, USA.
© 2016, Loughrey
This article is distributed under the terms of the Creative Commons Attribution License, which permits unrestricted use and redistribution provided that the original author and source are credited.
A two-part list of links to download the article, or parts of the article, in various formats.
Downloads
(link to download the article as PDF)
Download citations
(links to download the citations from this article in formats compatible with various reference manager tools)
Open citations
(links to open the citations from this article in various online reference manager services)